Upcoming Speakers
---
Back to Upcoming Speakers
Sep
18
2018
12:00 PM
to 1:00 PM
Rodney Glassman - Jeremy Jackrabbit Book Series
Upcoming Speakers
Please join us as Rodney Glassman shares information about his book program. This information was provided by Rodney:
Jeremy Jackrabbit came to life in 2010 to teach children (and adults) about the importance and ease of harvesting rainwater in our desert landscape. He returned in 2012 to help educate about recycling – this time with the help of 100,000 children who were invited to submit illustrations. To date, six Jeremy Jackrabbit titles have been distributed to 250,000 children – for free.
Jeremy is the brainchild of Sasha and Rodney Glassman, who have a passion for education, helping children and making their community a stronger and more sustainable place to live, work and raise a family.
The couple first met while earning their law degrees at the University of Arizona. Rodney had recently completed his PhD in arid land resource sciences and received the National Outstanding Research Presentation Award from the American Association of Agricultural Educators for his research on the impact of hands-on learning.
During Rodney's final year of law school, he was elected to the Tucson City Council and led Tucson to become the first city in the country to require rainwater harvesting on all new commercial development and gray-water plumbing in all new homes. For his success in championing sustainability initiatives, Rodney was awarded the Environmental Achievement Award from the Environmental Protection Agency and received speaking invitations from the mayors of cities across Arizona to share his conservation methods.
Rodney is Of Counsel at Beus Gilbert where he is currently doing strategy work locally, nationally and internationally for Mobile Mini Inc.; the president's office at Arizona State University; ISM Raceway (NASCAR); UHaul; Phil Francis, retired chairman and CEO of PetSmart; and many more.
Rodney is former Town Manager of Cave Creek and serves as a captain in the United States Air Force Judge Advocate General (JAG) Corps Reserve at Luke Air Force Base. He volunteers as vice president of the Grand Canyon Council Boy Scouts of America and serves on the boards of the Arizona Chapter of Jewish National Fund and on the board of the Arizona Foundation for Legal Services & Education.
Sasha is assistant general counsel for a global manufacturing company, teaches as an adjunct professor at the Sandra Day O'Connor College of Law at Arizona State University and is former president of the Madison Elementary School District Governing Board. She also serves on the board of Villa Montessori School and the Arizona Chapter of the Association of Corporate Counsel.
Sasha and Rodney live in Phoenix with their two young daughters, Rose and Ruth
Join Yuma Rotary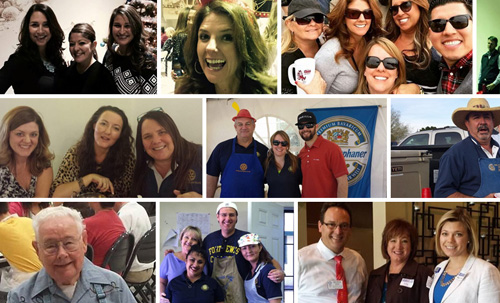 Rotary is 1.2 million friends, neighbors and leaders from over 200 countries that work together to make an impact on lives in their community and internationally.
Join Yuma Rotary
---
Upcoming Events
All Upcoming Events
---
Major Fundraisers