Today's Yuma Rotary Club
---

Club Executives & Directors
President
Gen Grosse
President-Elect
Brannick Harris
Immediate Past President
Karl Koenig
Treasurer
Lori Arney
Secretary
Bobby Lambert
Director at Large
Jay Simonton
Director at Large
KC Hoffman
Director at Large
Michele Balmer
Director at Large
Page Misenhimer
Director at Large
Art Morales
Director at Large
Melissa Short
Director at Large
Sara Bowerman

Membership Chair
Mark Hansberger
Foundation Chair
Gus Kurupas
About Our Club
Yuma Rotary is an incredible group of dedicated professionals with high ethical standards who incorporate Rotary International's mission of Service Above Self and the 4-Way Test into our every day lives.
Every year we provide charitable contributions to non-profit organizations, scholarships to deserving students, complete service projects in Yuma and in other international areas. Every one of us works together for one common goal, to Create Hope in our Community, Nation, and World.
Yuma Rotary is famous for our cooking and we invite you to join us at our most popular fundraising events: Walt Kammann Sausage Fry, Yuma All-Region Sports Banquet, Midnight at the Oasis and Yuma County Fair, both Fall and Spring! 

To learn more about who we are and what we do, we invite you to join us at one of our meetings held every Tuesday at 12:00 noon at the Yuma Civic Center located at 1440 W. Desert Hills Drive, Yuma, AZ 85365.
The Rotary Club of Yuma was chartered on May 4, 1937 with 19 members. Then District Governor Spencer Kimball of Safford promoted the formation of the new club, and under the sponsorship of Phoenix Rotary Club No. 100, the charter was presented at the Knights of Columbus Hall in the Immaculate Conception School on Fourth Avenue.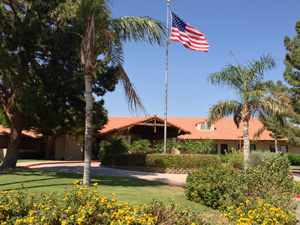 Fred Lynes was the first President, H.C. "Skin" Green was Vice President, H. Marvin Smith was Secretary.
Yuma Rotary meets every Tuesday at 12:00 noon at the Yuma Golf and Country Club with the exception of holidays.
The Four Way Test
Rotary's overall guiding principal is "Service Above Self' and reinforced with the Rotary Four Way Test, repeated in unison at the end of every meeting:
Of the things we think, say or do,
1st .. Is it the TRUTH?
2nd ... Is it FAIR to all concerned?
3rd ... Will it build GOODWILL & BETTER FRIENDSHIPS?
4th ... Will it be BENEFICIAL to all concerned?
Rotary at a Glance
The world's first service club was the Rotary Club of Chicago, founded in February 23, 1905 by Paul P. Harris and three of his friends. The name "Rotary" was derived from the early practice of rotating meetings amount members' offices. Rotary International expanded and has grown to an association of over 33,000 Clubs located in more than 200 countries.
Each club meets weekly to determine its own service activities and began by focusing on communities in need and helping the young and elderly. More recently, clubs worldwide have concentrated their efforts on the eradication of Polio, clean water, literacy, and drug abuse prevention programs as well as many other international and local projects.
Today Rotary is a growing organization of well over one million volunteer business and professional men and women united worldwide. Best described by the motto "Service Above Self", Rotarians provide humanitarian service, encourage high ethical standards in all vocations, and build universal peace and goodwill.
Charter Members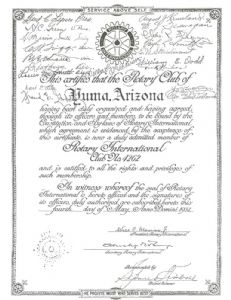 The signatures of the original 19 members can be found on the charter for Rotary International Club No. 4262, signed May 4th, 1937. These names were interpreted from the Charter and a 1977 Club Bulletin reprinting the names:
Fred Lynes, President
Howard C. Green, Vice President
H. Marvin Smith, Secretary
Clarence H. Trigg, Director
Phil K. Coffeen, Director
Dr. R.R. Knotts, Director
Louis M. Smith, Director
Karl E. Allen
Frank E. Gandolfo
Willard J. Dickerson
August J. Krauland
W.J. Flanagan
Charles A. Papay
Voyle Smith
E.N. Sturdivant
William E. Dodd
George R. Wilson
J.B. Zeller
Rev. Felix Predlowski
Join Yuma Rotary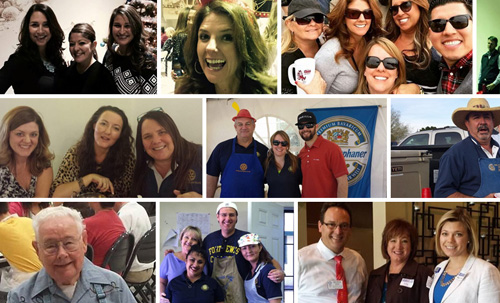 Rotary is 1.2 million friends, neighbors and leaders from over 200 countries that work together to make an impact on lives in their community and internationally.
Join Yuma Rotary
---
Upcoming Events
All Upcoming Events
---
Major Fundraisers